A sea of RVs surrounded Quincy Lake as eager fishermen from ages three to 90 prepared to seek the big one.
It was all a part of the Quincy Valley Chamber of Commerce's 12th annual Trout Derby on Saturday. It was a huge success with 90 registered adults and 36 children, Chamber Executive Director Cari Mathews said. In fact, all the campsites were filled at the lake as far back as Thursday, which was impressive as it was below freezing each night, Chamber President Elect Ryan Peterson said.
This is the second year that the chamber made the event free for kids if adults registered, Peterson said. It cost $30 for the adults to register.
"We're trying to get more kids outdoors with family event type things for the community," he said.
As part of the event, there were prizes for children; trophies, and for the adults, prizes for the top five biggest fish, Peterson said. They also had a raffle.
"We go by size (of fish) at this one," he said. "If we get more interest and get going bigger, the tagged fish is kind of a funner way to do it. It is just the cost of it. We didn't want to make it too expensive."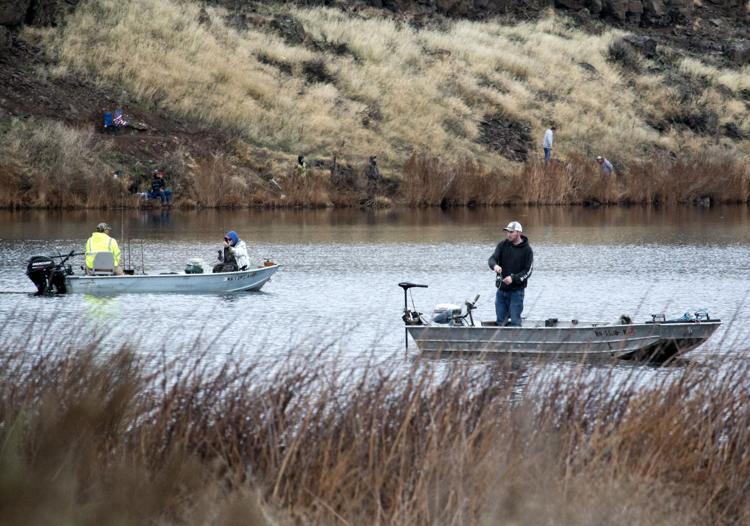 The tournament was a lot earlier this year than last, Peterson said. The chamber tries to put it on the first Saturday of March, but there was still snow on the ground at that time. It didn't happen until April.
"There were still guys out here ice fishing like the second or third weekend of March," he said.
It was hard to find a stretch of bank this weekend that didn't have someone fishing on it. Dozens of boats criss-crossed the lake as people tried everything from worms to power bait to entice the evasive prey.
George Hernandez of Quincy said he's been coming to lake since he was a child and his family attends opening week every year. He had his brother, daughter and son-in-law with him.
"I remember coming out here as a teenager skipping school on a Wednesday just to come out here and throw a line man," Hernandez said.
Victor Vargas of Quincy brought his 7-year-old son, Joel Vargas, to the tournament. He has taught all of his children how to fish and Joel is his youngest.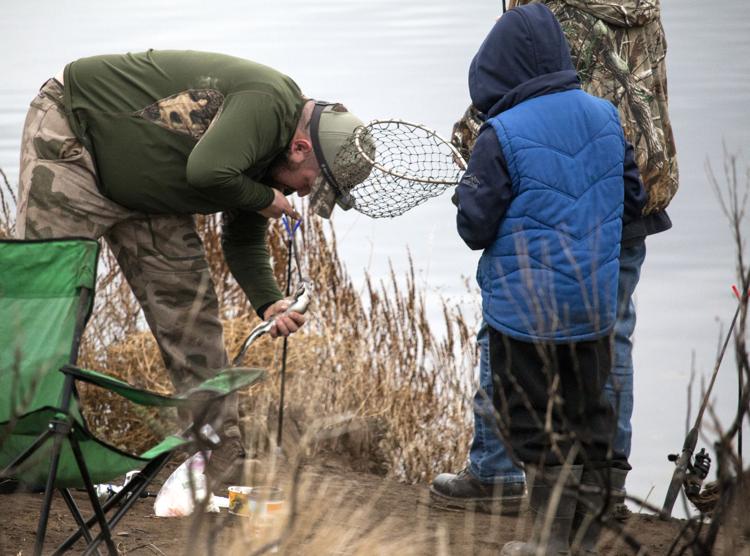 "My dad took me out a few times, not as much, but I always used to like and love it so I try to take out my little guys," Victor Vargas said.
Joel Vargas said his favorite part of fishing was casting the pole. He said catching a fish was fun, but nodded his head when asked if the fish was slimy.